Making Market: How M+C Assists with Las Vegas Winter Market

At Leggett & Platt Marketing + Creative, we take on a host of different projects throughout the year. Most require only the attention of one or two teams, such as design and copy or video and photography. However, every now and then, we tackle a project that pulls everyone together; from project management all the way to design, imaging, and copywriting. Las Vegas Market is one of those projects.
Las Vegas Market is a world-class tradeshow for exhibitors, designers, and buyers to interact within a cross-category shopping environment filled with home décor and furniture. There are two markets a year: one in the summer and one in winter, with roughly 80,000 people attending each over a five-day period. Last week, Leggett & Platt Consumer Products participated in the Las Vegas Winter Market with an assist from Marketing + Creative.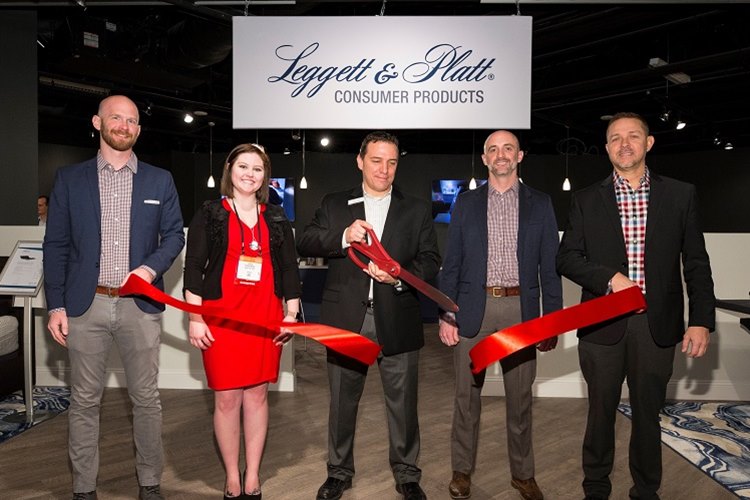 Our Project Management team worked closely with our Adjustable Bed group to produce a successful show space this winter. Planning for Winter Market began back in August 2019, right after the Las Vegas Summer Market concluded. The focus for Winter Market was to advertise a completely remodeled show space. Project Management handled builder quotes and final contractor approval for that redesign, while also traveling to and from Las Vegas for pre- and post-construction oversight.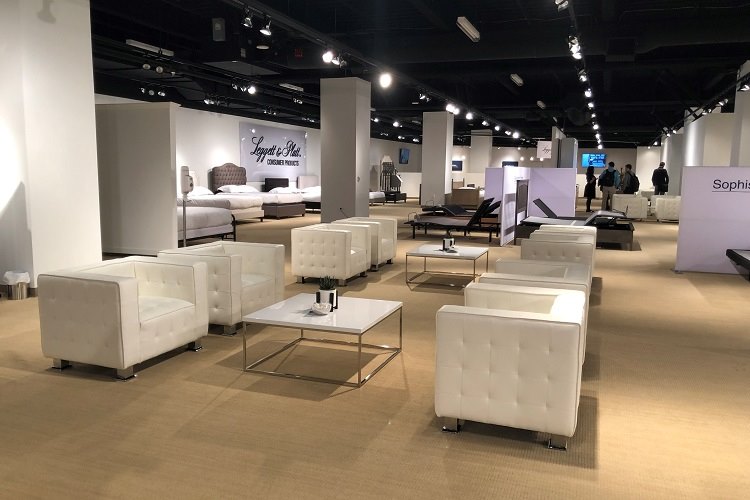 Additionally, our Project Management team was in charge of managing show and construction budgets for this new space. This included working with our interior designers to select all-new furniture and décor to complement the space. Together, they were able to complete a full design and rendering of the show floor to present to our Consumer Products clients.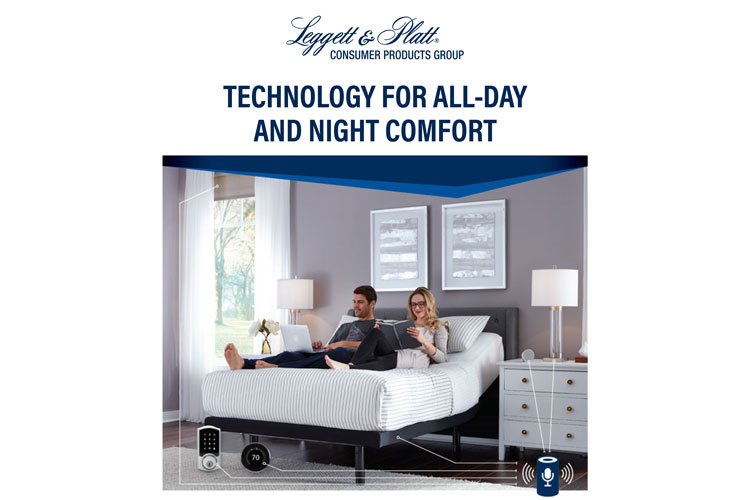 While Project Management dedicated their attention to budgeting, planning, and more, the rest of Marketing + Creative went to work in other areas of Winter Market. Graphic Design teamed up with Copywriting to refresh all product sheets with updated images and information. Additionally, our groups worked closely to develop print and digital advertising for publications such as Furniture Today.
With a new show space and marketing materials being designed, a request was made for digital assets as well. Imaging traveled to THS Creative in Greensboro, North Carolina, to produce and shoot video and photography of adjustable bases for Winter Market.
In the end, the hard work and dedication of Marketing + Creative, mixed with valuable insight and feedback from our clients at Consumer Products, produced an all-new, intricately designed, 9,000-square-foot show space with an additional 8,000 square feet of private show space – plenty of room to promote a full line of adjustable beds, from basic value models to fully loaded technological advancements.
Look at the image gallery below to see the final result.