Stop Throwing Your Tradeshow Money Away…the Early Bird Gets the Worm

No one signs up for a tradeshow and thinks, "I'm going to lose as much money as possible at the XYZ show." At least I HOPE not.
When the rapid-fire stream of show-related emails starts drowning your inbox, however (all marked "URGENT," I might add), it is difficult to navigate that mass of correspondence to find the things that really save cash.
One of the first things the project managers at Leggett & Platt Marketing + Creative are taught is that the huge file that is available for any tradeshow of significant size – called the Exhibitor Manual, or something similar – holds the key to the most basic savings.
This magical document contains the rules, regulations, and SAVINGS available for each individual show. Following these guidelines is sure to keep your money in your pocket.
Each required service, from booth rental to electrical to carpet, has three general pricing guidelines. Online (often called "early-bird") pricing is the one to shoot for. This pricing is the sweet spot. By planning ahead, the savings are obvious.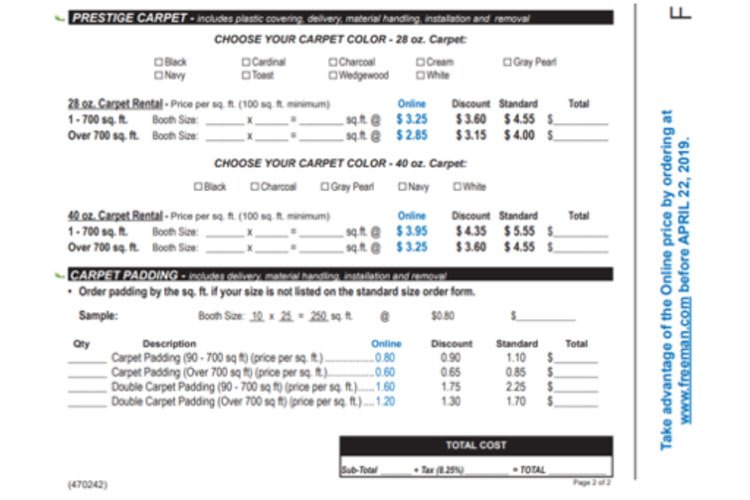 The example below shows one (ONE!) service for one tradeshow.
Ordering during the "Online Pricing" period offers a $1.30-per-square-foot savings on carpet (for a 1-700 square-foot booth) and $.30-per-square-foot savings on carpet padding (for the same sized booth). Doesn't sound like much, right?
For the sake of this example, let's say that our booth is a 20' x 20' space. That means you need 400 square feet of carpeting and carpet padding.
First, we need our carpet for this booth:
400 square feet x $3.25 = $1,300
If you DON'T take advantage of this pricing, you will pay $1,820…FOR THE SAME CARPET.
Now, the padding (because, let's be honest, three days on concrete is HARSH):
400 square feet x $.80 = $320
Again, moving to "Standard Pricing" changes this amount to $440. Nothing has changed but time.
By NOT planning ahead, you would have lost $520 + $120. $640 for what you stand on in the booth.
Imagine this for a minute. You have a minimum of four other basic services with a similar pricing structure. Your ROI (Return on Investment, for those taking notes) just dropped into the floor you just carpeted…over booth services.
Want to make the most of your tradeshow spend? Watch that calendar. Make those decisions on the tradeshow timeline.
And if you want to REALLY maximize those dollars? Give us a call. We do this stuff all day, every day.
Regardless of your choice, STOP THROWING YOUR MONEY AWAY. A little planning will result in a higher ROI. And you'll be a money-making champ.